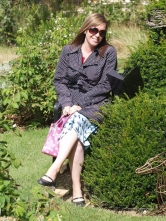 I am a self taught artist, who moved from London in the 1980's to the beautiful Forest Of Dean.
Animals have always been an interest in my life, as my father ran an Animal Rescue Centre from our home. I grew up in close proximity to many injured or orphaned animals and birds, sharing a bedroom with anything from an owl in the corner, to a fox cub who loved to jump on to my bed to cuddle!
I have always loved to paint and draw, often inspired by my talented Grannie who
exhibited her work in the Lake District. Having inherited her watercolours and pastels
I was inspired to create pictures for family and friends in my spare time. They soon
encouraged me to share them with a wider audience and as a result I now take on commissions.
I offer a variety of affordable watercolours ,pastels, sketches and limited edition prints. They contain unique pictures created for various occasions including animal art, landscapes, baby name plaques and mystical themes, all originals are produced on high quality watercolour paper. Please feel free to contact me via the website or Facebook page if you have a request. Thanks for visiting, Ruth.